Solve welding and design documentation problems
Creating, managing and submitting the right form at the right is a time consuming and critical task. Documented compliance with ASME Section VIII and multiple other ASME and AWS codes is a major component of staying in business.

CEI has been supporting pressure vessel, piping, and heat exchanger design and manufacturing for 30 years. They have created an affordable software to address the need for form and document creation called FormPro SQL.
FormPro works as a stand alone tool, or it can complement DesignCalcs, our software that streamlines pressure vessel design compliance to ASME Section VIII code.
Works for small or enterprise level companies
FormPro SQL is designed to be used by a small shop or by large operations that have worked with over 100,000 forms with no performance degradation. The software handles multiple users, complex form needs, allowing customization with style and ease. Over 10 years of form revisions are available across five form groups.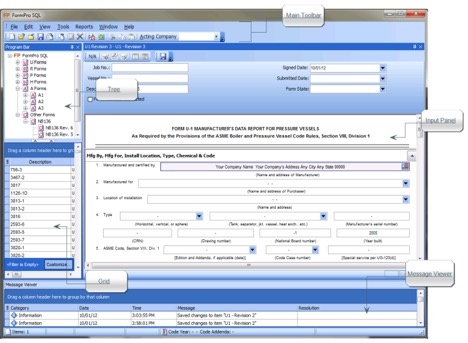 View - edit - save - organize - print
FormPro allows you to view, edit, save and print a variety of reports, including National Board® logs and repair logs. There are over 250 revisions to various form standards - ASME, National Board, and CEI templates.
National Board Logs

Repair Logs
ASME templates

Over 250 templates
The User Interface is designed to provide access to all forms in the tree view while emulating paper forms with the input panel. To create a new document from the template, select the template in the new dialog.
The created form will contain all the data in the template, but you will still be able to edit the imported values. To edit the template, choose it from the open dialog. Changes to the template will only affect new forms based on the template.
Tree and grid display format
The Form Tree displays your available forms, so you can quickly navigate to the type of form you wish to create. The grid allows quick access to your previously created forms. You can group, filter, and sort the contents of the grid, so the data is arranged in a way that makes sense to you.
What you see is what you input
The input panel is designed to mimic the appearance of a paper form, so you know just where your data will appear even as you enter it. Form information fields are in a block at the top of the panel, allowing you to check your job number and other details no matter how far down the form you are working. The tabbed layout offers you the opportunity to have multiple forms open at once. When you save your document, you commit all changes you have made to the form to the database. If you have several documents that will contain the same data, you can save your form as a template.
Information, warning and error message center
FormPro conveys information, warnings, and errors to you through the message viewer. The message viewer can be accessed through the View menu or by pressing Ctrl+F8.
Form revision updates
New revisions of over a dozen U, P, H, & A forms to bring them to 2017 Edition compliance.
Simple DesignCalcs import
If you are a DesignCalcs pressure vessel design software user, the import feature is a useful tool to reduce your data entry time and ensure that your data is consistent across platforms. When you select this option, a Windows explorer window will open. Navigate to the vessel you wish to use and click Open. The data from the DesignCalcs designed vessel will be automatically entered into any applicable fields.
You can, of course, call us or contact us through the website, where we'd welcome the opportunity to answer any questions you may have on this post.