Weld Toolbox - CAD is a FREE welding symbols utility that utilizes design wizards to help you easily document the types of welds, including the weld symbols you need to give your documents a professional appearance.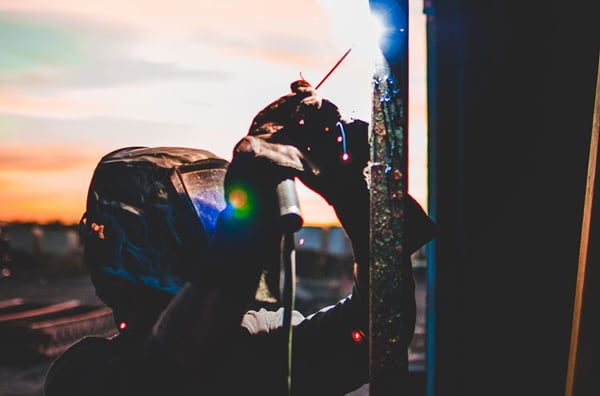 The utility includes:
All common types of welds
A weld symbols wizard
Standard weld joint configurations

Standard welding notations
INTUITIVE USER INTERFACE
The User Interface is designed to combine flexibility with simplicity. You can design your joints with the drawing tools, the provided wizards, or a combination of both. Create, open, and save joint images as well as access the joint and symbol wizards.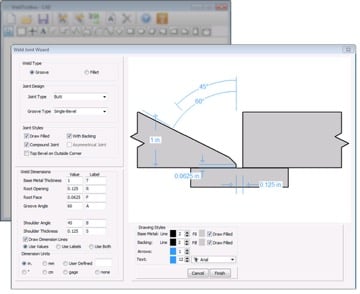 Quickly create a variety of welding joints
The joint wizard creates a variety of welded joints with just a few clicks. The symbol wizard creates many different standard welding symbols. The items created by the wizards can be edited in the image workspace.
This utility allows for all standard type of welds and joint configurations and includes all standard notations.
Weld Types Supported:

Joint Types Supported:

Groove Types Supported:

Groove Weld

Fillet Weld

Butt Joint

T - Joint

Corner Joint

Square Groove

Single - Bevel Groove

Single - Vee Groove

Single - J Groove

Single - U Groove

Double - Bevel Groove

Double - Vee Groove

Double - J Groove

Double - U Groove
Weld, Layer, & Pass
In Weld Toolbox - CAD, layer and pass are utilized to allow the correct depiction of a filled weld joint. "Pass" is self-explanatory, but "layer" is not universally recognized. In WT-CAD, a layer is used to represent the concept of aligned passes. A layer may be composed of a single pass - as is typical in a root operation - or of multiple passes, as in a fill operation.
ProWrite Integration
With both ProWrite Welding Software and Welder's Toolbox CAD installed you can access the WT CAD capabilities without leaving ProWrite. Just open a PQR or WPS and select the WT-CAD button. Create a design and provide a unique description with some meta data for the joint than select.

And that image will be added to your ProWrite Database for use on any documents and automatically assigned to the current document.
Weld Toolbox - CAD is a FREE stand-alone utility for PC's only that you can use without CAD systems or other engineering software.
You can of course, call us or contact us through the website, where we'd welcome the opportunity to answer any questions you may have on this post