How does ASME Div 1 Impact Pressure Vessel Weight?
Something you've probably noticed when following ASME Section VIII Div 1 pressure vessel code is how the code tends to require manufacturers to develop heavier vessels and exchangers for land-based structures. But what if you're designing a ship or tall structure? How can the code be adapted when it's not optimized for these types of structures?
Because of this need, PD 5500 and EN 13445 were developed in order to give designers the ability to manufacture lighter and more efficient vessels. These additional codes provide vital design options that the ASME pressure vessel code lacks.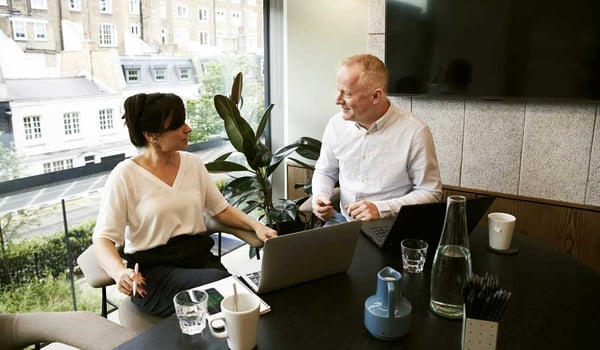 Why Were PD 5500 and EN 13445 Created?
In the 1950s, ASME Boiler & Pressure Vessel Code was dominant across most of the world. Due to WWII, Europe went bankrupt and its heavy industries were destroyed. European countries, therefore, needed new methods to produce lighter and more economical vessels, something ASME couldn't accommodate at that time.
Concurrently, oil industry companies in the North Sea, such as BP Exploration and Shell Oil, began to actively seek lighter vessels for oil rigs and ship-mounted equipment. The further they went offshore the greater the need became.
In order to meet this demand, PD 5500 was created. It evolved partly from the well-known BS 1500 and BS 1515, which permitted higher level allowable stresses and more advanced rules.
Years later in May 2002, the first issue of the European Standard EN 13445 Unfired Pressure Vessels was published. This standard was developed to accommodate vessels subject to the European pressure equipment directive.
Over time, PD 5500 and EN 13445 became more competitive in designing lighter and more efficient vessels.
A clear validation of these advantages is recognized in the recent 2019 publication of ASME Section VIII, Division 1 with the new language in U-2(g), specifically U-2(g)(1).
At a high level this change identified as U-2(g) indicates that when Sec. VIII, Div 1 doesn't tell you what to do, the guidance is to look at Div 2. If Div 2 doesn't tell you, then look at other recognized and generally accepted standards like EN 13445 or PD 5500.
For more information, see what the details of the U-2(g) ASME BPVC code changes
What Are PD 5500 and EN 13445?
As already stated, PD 5500 and EN 13445 are instrumental in designing lighter and more efficient vessels.
PD 5500 hailed from BS 5500, which had a number of distinctive features compared to other pressure codes. Weld joint factors were removed and the present three categories of construction were introduced. It included a new, novel external pressure section, as well as a loose-leaf format, and annual updating was introduced.
When the first edition of EN 13445 was introduced, it wasn't as comprehensive at BS 5500. Because of this, the British pressure vessel standard continued to be available and became a published document (PD) under the new reference PD 5500.
It has equal content, validity and application to the previous BS 5500, with its principal difference being that it doesn't have the status of "national standard."
Free Resource: 2020 Pressure Vessel & Heat Exchanger Design Guidelines and Resources
Key Differences Between PD 5500, EN 13445, ASME VIII Div 1 & ASME VIII Div 2
When pressure vessels and heat exchangers are designed, they must meet codes through various methods. This process is complicated when certain variables must be adjusted.
The basic formula for stress based on internal pressure and thickness is an immutable fact of physics.
The main way to adjust the methods used in pressure vessel design is by varying:
Material selection/restrictions
Allowable stresses
Joint efficiencies
Safety factors
Material Selection Restrictions
ASME VIII materials are usually designated by P number
Both PD 5500 and EN 13445 materials are identified by group number and derived from PD CR ISO/TR 15608
PD 5500, Section 2.1.2.1

All materials used in the manufacture of pressure parts shall:

Conform to BS EN steels given in Table 2.1-2; or
Conform to BS steels given in Table K.1-2 to Table K.1-12; or
Be agreed between purchaser, Inspecting Authority and manufacturer, be documented [see 1.5.2.2b)] and shall conform to 2.1.2.2; or
Be the subject of a ''European approval for material'' in accordance with the EU directive 2014/68/EU; or
Be detailed in supplements, annexes or enquiry cases to this specification. Enquiry case 5500/91 lists those ASTM materials permitted along with the allowable stresses to be used. Note that ASTM materials not listed in Enquiry case 91 can only be used if they comply with 2.1.2.1 c) detailed above.
EN 13445

Section 4.3.1: The European Standards for plates, strips, bars, tubes, forgings and castings for pressure purposes shall be used.

EN 13445-2 Annex E: contains an informative summary on European Standards for steels and steel components for pressure purposes.


| | |
| --- | --- |
| Product Form | European Standards |
| Plate and strip | EN 10028 Parts 1 to 7 |
| Rolled bar | EN 10272 and EN 10273 |
| Seamless tube | EN 10216 Parts 1 to 5 |
| Electric welded tube | EN 10217 Parts 1 to 4 |
| Submerged arc welded tube | EN 10217 Parts 1, 3 5 and 6 |
| Fusion welded tube | EN 10217 Part 7 |
| Fitting | EN 10253 Parts 2 and 4 |
| Forging including forged bars | EN 10222 Parts 1 to 5 |
| Casting | EN 10213 |
| Steel for fastener | EN 10269 |
Allowable Stresses
The allowable stresses used in the ASME Boiler and Pressure Vessel Code are primarily limited by tensile strength and rarely take advantage of the high yield of some materials. By comparison the allowable stresses used in PD 5500 and EN 13445 are less restrictive on tensile strength, allowing a higher value, often limited by yield.
Comparatively, the allowable stresses due to PD 5500 and EN 13445 are higher, leading to thinner walls in many cases. This is compensated by rigorous inspection and non-destructive testing during manufacture.
PD 5500 Section 2.3.3

DOWNLOAD PDF OF PD 5500 Section 2.3.3
EN 13445-3 Table 6-1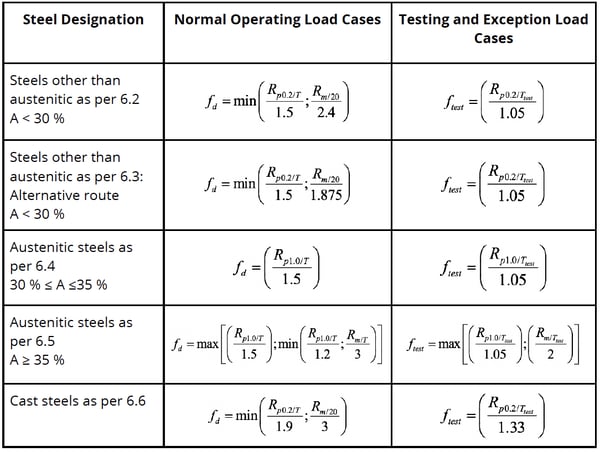 DOWNLOAD PDF OF EN 13445-3 Table 6-1

Joint Efficiencies
PD 5500
Does not use weld joint factors and instead, operates within three categories of construction: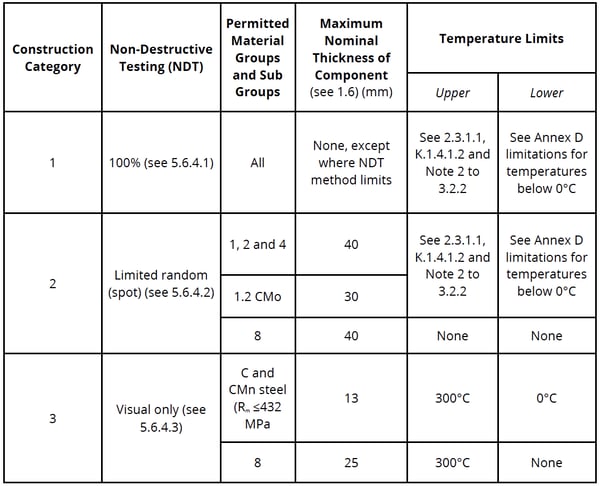 DOWNLOAD PDF OF PD 5500 Joint Efficiencies
EN 13445
Defines the joint coefficient z in Clause 5. Table 5.6.1
| | | | |
| --- | --- | --- | --- |
| Testing Group | 1, 2 | 3 | 4 |
| z | 1.0 | 0.85 | 0.7 |
Where Testing Groups are defined in EN 13445-5 Clause 6. Table 6.6.1-1
By knowing the differences in PD 5500, EN 13445, ASME VIII Div 1 and ASME Div 2, designers can design vessels compliant with the different codes.
How CEI Can Help
CEI's Finglow software for pressure vessels and heat exchangers, was developed specifically for PD 5500 and EN 13445, as well as concurrently covering ASME Section VIII, Div 1 and 2.
Lynn Billings, Director of Quality Assurance for Finglow Group, wrote her first software program in 1969. She started her career in 1978 in nuclear engineering at Babcock International in London, designing pressure vessels, power stations and submarines to ASME III. She was responsible for building a team of engineers to write design software to automate the analysis of FE stresses to ASME III.
Billings joined Finglow in 1988 and began writing software to ASME VIII Division 1, as well as converting the original Finglow PD 5500 software from Basic to C & C++. Where ASME, Section VIII, Div I doesn't provide the needed solution, PD 5500 and EN 13445 include the standards that can be referenced by the designer. Billings and her team at Finglow have the expertise and experience to know what designers and manufacturers need to ensure their vessels meet code.