Performing finite element analysis (FEA) as a method to ensure engineers maintain safe, compliant and economical pressure vessels, piping and tanks is well worth the consideration in preventing additional costs in material and even catastrophic events.
The regulations in the ASME codebooks and the guidelines in the WRC bulletins that are available today do not always provide explicit rules for all types of geometries and loadings, which can diminish the factor of safety or even lead to an overdesign.
But having a way to validate a model against code requirements as well as ensure analysis is properly executed for safe economical design in any given situation is a problem engineers experience in the O&G, Chemical, Pharma and other industries.
If you're someone who experiences code loopholes, we hope this blog will help fill in those compliance gaps. Let's get started.
Finite Element Analysis
Typical Design by Rule (DBR) methods often hinder designers with such a limited scope on geometry and loading.
The FEA method allows designers and engineers to expand the situations they can simulate in their models by eliminating assumptions and simplifications. As a result, this adds an extra level of security to their designs and prevents an overdesign.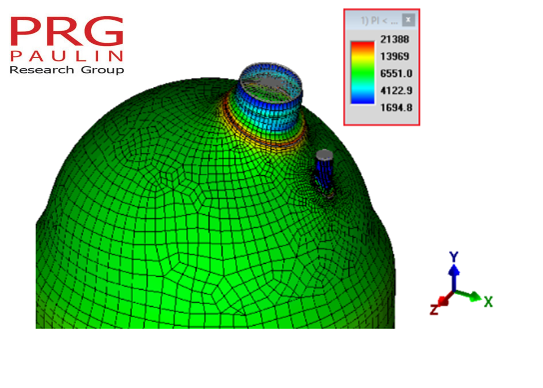 Two Validation Methods Are Better Than One
As the old saying goes, it's better to be safe than sorry, especially when fabricating pressure vessels and pressure piping systems.
At the end of 2021, CEI acquired Paulin Research Group to provide a way for engineers and designers that validate against ASME codes, WRC bulletins and others while also performing FEA on their design models.
CEI's design solutions, DesignCalcs and Finglow, offer an extensive set of ASME Section VIII Div 1 and 2 code calculations (as well as B16, PD 5500, EN13445, WRC 537 and others) to help the engineers and designers validate against Design by Rule code requirements with ease. And now with native integrations with Paulin Research Group's modular-based FEA solutions, like NozzlePRO and PVPTPro, Design by Analysis and Div 2, Part 5 compliance is now available to enhance validation and code compliance for extensive geometries and loading conditions.
This suite of products allows for the same designs to be checked against multiple standards through traditional rule-based methods as well as both linear and non-linear FEA methods.
So, as an engineer or designer inputs their model and validates it against a variety of codes using DesignCalcs or Finglow, they can then import that same design into NozzlePRO to perform FEA that provides an extra level of security in minutes.
Codeware® COMPRESS™ no longer offers FEA functionality natively. With NozzlePRO Vessel Link, you can now import data from Codeware®, Hexagon in addition to CEI's DesignCalcs and Finglow.

Type 2 Lugs Functionality Is Now Supported
In the latest Paulin Research Group release, type 2 lugs that are supported in DesignCalcs have now carried over to NozzlePRO when using the longitudinal structure option (Structure 1).
Users can design a traditional type 1 longitudinal lug or have the option to design a type 2 lug with a tapered section. In NozzlePRO, users can then perform FEA on the lugs, and with the software's templated design, they can easily enter the data needed for their components while also viewing the physical geometries imported from DesignCalcs in the display panel.
After the data has been entered, users can plot their data and view the 3D structure.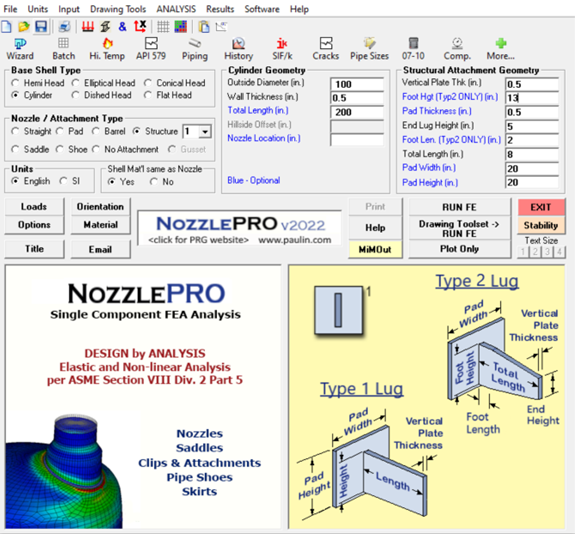 Design and Validate Against ASME Codes & Related Standards and References with Ease
When you're needing to design for compliance but are getting stuck while validating against code requirements or need an extra level of safety implemented for your pressure equipment, consider utilizing FEA as another way to ensure your models are compliant and cost-effective.
To learn more about how our software solutions make this easy, schedule a discovery call with us today.