In the midst of the world's current health situation, CEI is doing everything it can to ensure welders and designers have the tools they need to successfully understand and comply with evolving industry codes and standards.
Four times a year, CEI attends conferences to help its customers navigate ASME boiler and pressure vessel code changes. Although social distancing may have changed how the meetings are presented, it hasn't impacted the quality of information attendees gained and will continue to gain from participating in ASME events.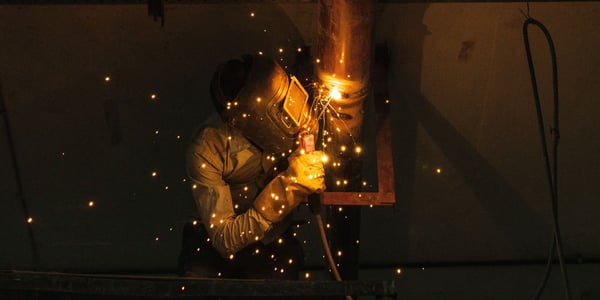 Details on CEI's Quarterly ASME Boiler & Pressure Vessel Code Meetings
While the first-quarter code meeting in Las Vegas, Nevada was held in-person, the second-quarter meeting—held May 11-15—was hosted online, setting a precedent for Q3's meeting, which will be hosted online August 17-21. At this time, Q4's meeting is scheduled for November 9-13 in Atlanta, Georgia at the Westin Peachtree Plaza. CEI has had representatives at both of this year's meetings and intends to send team members to upcoming events.
A Sneak Preview of What Code Changes to Expect in 2021
The following information was gathered by CEI meeting attendees and reflects possible ASME Section VIII changes for next year. While each change listed hasn't officially been approved, knowledge like this is crucial for your company's continued awareness.
Requirements for pressure vessel engineers/designers to be added to ASME Division 1. CEI first presented on this at our in-person training in the Fall of 2019.
Changes to the Tubesheet shear stress screening criteria will require more designs to be checked; this is for ASME D1 and ASME D2. Authored by CEI's Michael Clark.
Options for Yield determination to use in design equations when SC II, D does not provide the value. Authored by CEI's Michael Clark.
Consolidation of Annex 4-C and 4.18.10 for Tube to Tubesheet requirements in D2. Authored by CEI's own Tiradej Bunyarattaphantu.
Changes to the tube to tubesheet calculations.
Changes to the Cone to Cylinder reinforcement in D1 per Appendix 1-5 and 1-8.
Changes to the jacket rules in Appendix 9, mainly penetrations
Changes to the ASME Division 2 nozzle method for nozzles in flat heads (This will make it more favorable in some cases.)
Other changes to the D2 nozzle method
Defining how the Division 2 flange method should handle G1. G1 = G0, authored by CEI's Michael Clark.
Removal of the 1.67Pe requirement for certain heads under external pressure
Removal of the lower L/t limit on the 4.3 torispherical head method in D2
Clarification of supervisory activities for which a qualified supervisor shall be designated by the organization
Use of High-Frequency Induction Welding
Use of Explosion Plugging of Tubes
Adoption of new materials and assignments of Several F and P #s
Allowance for WPS qualification of pjp welds using LBW and EBW
Helpful Info on How COVID-19 Impacts Your Work
Due to current world events, please keep the following notes in mind:
Effective as of now, BPV IX Joining Personnel's Qualification Continuity Extension (QW-322.1(a), QB322(a), QF-322.1(a)) – This Code Case 20-868 is in direct response to the COVID-19 Coronavirus and extends expiring welder's qualifications for an additional 3 months, without having to requalify.
The AWS has established a COVID-19 extension. However, it's set to expire September 2020.
Make sure you and your entire team can design, fabricate, and quote with confidence when you take advantage of CEI's software for pressure vessel design and welding. Our team stays knowledgeable on industry code regulations and trends to ensure our software produces the results you need. Learn more:
Expertise You Can Trust
The information above includes the notes of ASME meeting attendees and CEI employees, Michael Clark, Antonio Howard, and Tiradej Bunyarattaphantu.
Michael has attended code committee meetings since 2004 and was quickly invited to join the then Special Working Group on Heat Transfer Equipment when he offered to do some derivations for an expansion to the rules. Since then, the Special Working Group has become an official permanent Sub Group to BPV VIII.
Michael was named secretary of the group in 2017 and was recently selected as the vice-chair. Michael has authored a number of code rules, including the simply supported Tubesheet method for UHX and 4.18, the Elastic-Plastic method for Floating Tubesheets, the option to add hemispherical channels, and most recently the kettle shell method. Outside of the SGHTE, Michael has volunteered in peer review for both PTB-3 and PTB-4 and is involved in items for Subgroup Design for BPV VIII.
Tiradej has attended code committee meetings since 2015 and sits on the Sub Group of Heat Transfer Equipment. He has authored a few code rules, including the combining of 4.18.10 and Annex 4-C into one section of Division 2 that will appear in the 2021 code release.
Antonio has attended code committee meetings since 2007. In 2009, he was voted to sit as a member of the ASME's Section IX – Subgroup on General Requirements, which he is still a current participating member of.
He is also a participating member for API 1104 - Welding Procedures and Performance Qualifications and a longtime member of the American Welding Society. Antonio has authored several welding blogs and traveled across the country teaching and speaking to Engineers, CWIs, and Quality Managers about how to effectively create and manage code-compliant welding procedures and welder qualifications.
He's also an Adjunct welding instructor at a community college, where he uses his time there to stay sharp on his practical experience. With an education in applied mathematics, engineering, and computer science, Antonio is a valuable part of the CEI team, ensuring ASME and AWS code changes are reflected in the ProWrite platform.
As an AWS Certified Associate Welding Inspector, he has the perfect insight to understand the day-to-day needs of users in the Fabrication shop. He utilizes ASME boiler and pressure vessel code to evolve design methodologies for developing pressure vessel and welding software.
Antonio also spearheads engineering initiatives, provides engineering guidelines to software developers, and serves as a subject matter expert where he dichotomizes complex welding codes and creates logic for developing code compliant software.
Additional Code Meeting Information
Never miss an opportunity to learn more about updates to industry-critical codes and standards! Check out CEI's calendar of events for future activities, or learn more about past code updates by reading previous blog posts that contain helpful insight.
A quick glance of past & upcoming ASME Boiler & Pressure Vessel Code Weeks in 2020-2022
2020
May 10-15: Hosted online via Zoom
August 16-21: Hosted online via Zoom
November 8-13: Atlanta, GA (Westin Peachtree Plaza)
2021
February 7-12: New Orleans, LA (Sheraton New Orleans Hotel)
May 9-14: Scottsdale, AZ (Fairmont Scottsdale Princess)
July 25-30: Pittsburg, PA (Omni William Penn)
October 31-November 5: Atlanta, GA (Westin Peachtree Plaza)
2022
February 6-11: Las Vegas, NV (JW Marriott)