In the 2019 code, ASME re-designated the MDMT Curve Assignment for the SA-105 forging material, maybe the most common forging material used.
Essentially, this change for this often-used carbon steel spec requires a more conservative design. If the change is overlooked, it may cause a manufacturer to either scrap or re-rate a manufactured pressure vessel.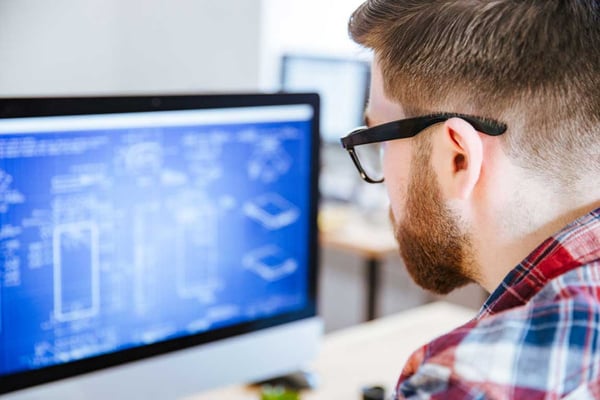 Pressure vessel manufacturers must consider the change when purchasing inventory of stock forgings, like long weld neck flanges. If designers build pressure vessels as they did in 2017 prior to this change, the end result can be a significant financial hit.
What Is the MDMT Curve Assignment Change?
In the 2017 BPV VIII guidelines, SA-105 material was assigned to a curve B.
Now, in the 2019 code, the material is typically assigned to curve A (a more conservative requirement). For a wide range of governing thicknesses, this is an increase in the allowable MDMT (without impact testing) of nearly 40 degrees Fahrenheit. A design that was good to -20 F in 2017 may now need to be rated at 18 F if nothing is changed about the material selection.
This code change may make it significantly more difficult, in the near term, to obtain alternatives for SA-105 material. Potential longer lead times may need to be considered.
However, if the manufacturer is able to document that the forgings were "produced to fine grain practice and normalized, normalized and tempered, or quenched and tempered after forging" then they can still use Curve B and the MDMT that worked for 2017 code vessels.
If designers continue per the ASME 2017 code using SA-105 as-forged, the pressure vessels most likely won't pass the new tougher 2019 requirement. At that point, designers can either get the vessel de-rated to a warmer MDMT or, potentially may have to scrap the pressure vessel.
In either scenario, the manufacturer will most likely lose money.
Related Article: 2020 Pressure Vessel & Heat Exchanger Design Guidelines and Resources
What Designers Need to Do
Consideration of this change should be made when selecting SA-105 forgings. Talk to your forgings provider and see what they can do to ensure you can meet the post-forgings treatment requirements and use curve B temperatures.
If the fabricator is unaware of the changes, they may end up with an unwanted inventory of components, as well as design and build a pressure vessel that does not meet code at the MDMT their product was specified for.
CEI is committed to ASME committee meeting involvement in order to stay up to date and inform their clients of any upcoming changes in design or materials. Informed users of CEI pressure vessel design and welding documentation software can save money and reduce QC inspection failures.